In the 2012 council elections, in quite a few wards the SNP decided to improve their number of seats on the council by breaking the musical chairs rule: instead of having just one party representative per ward, they had two. They made a number of bad strategic decisions (not least, presenting themselves as the male pale stale party in the last election before they have to convince women voters in particular that independence is worth voting for) but this one was kind of obvious.
(The musical chairs rule, for those not familiar with it: in Scotland, there may be three or four seats per ward, and there are usually candidates from five major parties standing: Labour, Conservative, LibDem, SNP, and Green. In a ward with four seats, as people go down the list of candidates ranking the parties in order of favour, this can effectively be a game of musical chairs: when the votes are counted, four out of five of the main parties will have a seat.)
The SNP also made the mistake of assuming that voters would remember their individual councillor and vote for him specifically (in the SNP, it's usually a him). In my ward, the SNP council election leaflets suggested voters put "1" next to the second candidate, new man Adam McVey. (They did suggest people put "2" next to the previous councilor, but people don't rank the same party "1" and "2" on their ballots…) Consequently, Adam McVey got in, and the previous SNP councillor lost his seat. The same pattern seems to have repeated itself in Heldon & Laich ward in Moray, with variations typical of locality – the previous councillors had been three men, a Conservative, an Independent, and SNP. Carolle Roberts, who had been involved in the campaign to keep the local RAF base open, was chosen to run as the SNP's "other candidate". And won.


The losers out of the six men who stood as candidates were the Green party candidate, two Independents (neither of them the incumbent – he got back in, as did the incumbent Conservative) and yes, the previous SNP councillor, who in 2007 had got in at the first count with the majority of the first preference votes. (In 2007, all the candidates and all of the incumbents in that ward were men.)
On Friday, Carolle Roberts said she was standing down as councillor, triggering a local by-election for her seat, after six months of anonymous stalking and harassment. She said:
"There comes a point where enough is enough. I stood for the council to work for the community, not to become a target for vicious bullying and a personal campaign of intimidation.

"My family life has been put under an unacceptable amount of stress as a direct result of this stalking and I am not prepared to carry on in these circumstances.

"This is not a decision I have come to lightly, it is one of the hardest things I have ever had to do, especially given my commitment to this community which I love and which all my life has always been so important to me.

"I have received the kindest support from people in Lossiemouth and throughout the ward as well as from SNP colleagues. I would be very grateful if anyone has any information that might help the police with their inquiries to contact them."
Whenever the toerag who harassed Carolle Roberts is caught, we will probably find that there were multiple reasons for the troll: as Leo Traynor described so vividly, a troll can decide to pick on someone simply as a game thing. I know nothing about the kind of harassment Carolle Roberts has been subjected to, but as repeated exposures have made clear, women are more routinely and more brutally harassed than men: as the Everyday Sexism project has exposed the day-to-day nastiness of sexism and misogyny.
The first woman councillor from a ward that hasn't had one before, on a council that has very few women representatives, who has – in the eyes of some – displaced the previous male incumbent of her party? It would be surprising if there was no element of misogynistic hatred, everyday sexism, motivating the stalker.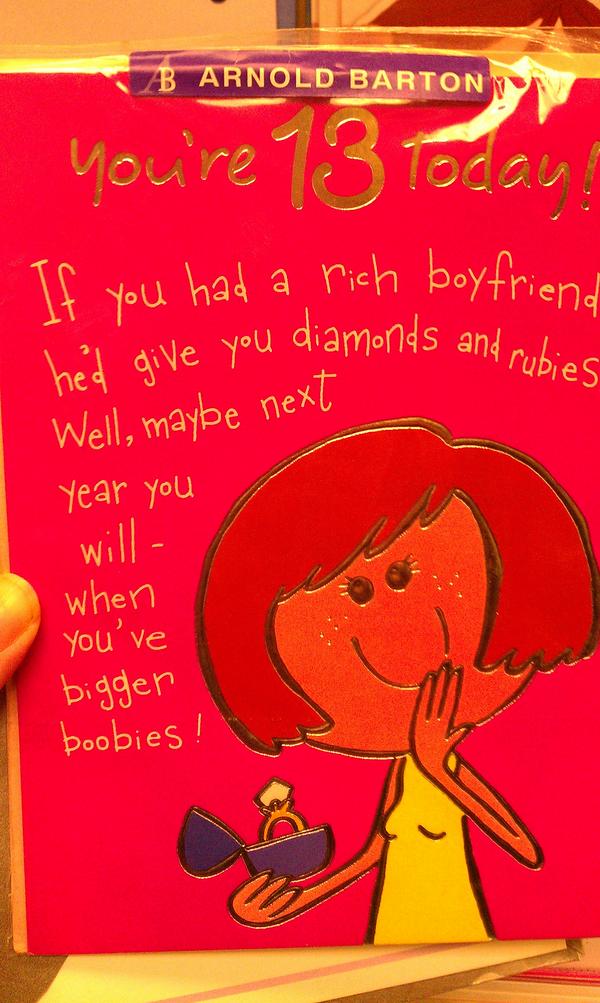 (Click on images to see larger version.) The t-shirt on the left is for sale at Spencer Gifts. The card on the right was (it's claimed by Hallmark, who now own Arnold Barton cards) made in 1997 and they agree it's unacceptable.
Three days ago, the Daily Mail – after running a succession of prying and speculative stories about Kate Middleton's morning sickness – got a new twist for its mill.
An Australian radio station 2Day FM, based in Sydney, owned by Southern Cross Austereo, had two presenters, Mel Greig and Michael Christian, put through a prank call to King Edward VII Hospital, claiming to be the Queen and the Duke of Edinburgh. They were believed by the switchboard, and were put through to a nurse's station on the ward where Kate Middleton was sleeping. The nurse they spoke to, says the Daily Mail with classic hypocrisy, made "a number of deeply personal observations about her health. The Mail has decided not to report those details in order to protect Kate's privacy."
The hospital CEO (King Edward VII is not an NHS hospital) John Lofthouse said:
'This was a foolish prank call that we all deplore. We take patient confidentiality extremely seriously and we are now reviewing our telephone protocols'
The 2Day FM station got its first five-year licence probation in 2009, after a 14-year-old girl was pushed into admitting she'd been raped at the age of 12, live on air. The Australian Communications and Media Authority (ACMA) ordered the station to "provide increased protection for children participating in hosted entertainment programs".
In 2012, on the same breakfast show, the same presenter, Kyle Sandilands, whom 2Day FM bill as "one of Australia's foremost media personalities", "never afraid to speak his mind" got 2Day FM another five-year licence probation when he reacted to a journalist who reported his show was getting poor ratings with an on-air live tirade including:
"Fat slag…you're a piece of shit. You haven't got that much titty to be wearing that low cut a blouse. Watch your mouth girl, or I will hunt you down."
(A petition to get sponsors to withdraw from his show was successful.)
ACMA initially ordered the station to refrain from broadcasting "indecent content that demeans women or girls". But after Southern Cross Austereo appealed, 2Day FM had their warning modified, only banning them from broadcasting material that offends "generally accepted standards of decency".
Is it decent to phone a hospital, pretend to be a patient's in-laws, and get confidential information about the patient which is then broadcast nationally? Or does that offend generally-accepted standards? It's not a prank: a prank is when you know the person you're pranking will enjoy the joke as much as you. While 2Day FM got a lawyer to review the tape, they could not have supposed that the patient, or her family, or the nurse they tricked, would have enjoyed the "joke".
The nurse who took the call, though not in the least at fault – 2Day FM placed the call at a time when the ward would have been busy, and the switchboard would have told the nurse who they thought was calling – would have been looking forward to a future of Daily Mail stories about her, the nurse who gave out confidential information about Kate Middleton. The Daily Mail isn't known for mercy in pursuit of royal stories: any time the nurse did anything that might be considered "newsworthy", there would have been a "story" to reference back to taking that phone call.
The Daily Mail got a quote from Dickie Arbiter, the Queen's former Press Secretary:
'This is a shocking breach of security. 'The Royal Family have been clients of the King Edward VII Hospital for many, many years and it simply beggars belief that a member of the public could call up and obtain details of the Duchess's medical condition in this way.
'Where on earth were the checks and balances? The hospital will be livid at what has happened and I am sure the palace will be demanding answers. There will be fireworks over this, for sure.'
Mel Greig and Michael Christian said in a formal statement on 4th December:
'We were very surprised that our call was put through.
'We thought we'd be hung up on as soon as they heard our terrible accents.
'We're very sorry if we've caused any issues and we're glad to hear that Kate is doing well.'
Brett Mason, the European correspondent for Network 10 Australia, who was sent to King Edward VII hospital to cover the "story", said
"It's quite extraordinary that two particularly bad royal family impersonators with distinctly Australian accents have been put through. I think we're probably having a bit more of a chuckle than our British comrades, who are still trying to see the funny side. But we also get the seriousness of it and given the timing of Leveson it's probably gone down like a lead balloon over here.' He spoke to one of the radio presenters after the phone call was broadcast: 'I think they're quietly chuffed that they've made international headlines,' he said. 'I don't think when they made that late night phone call they ever expected to be front page news right around the world.'
The Telegraph reported a whole array of Australian media reactions congratulating the two DJs on their successful fake phone call and transmission of private medical information, repeatedly referring to it as a "prank".
That was until the nurse was found dead.
Very promptly, the media swung round and started targeting "former Adelaide radio announcer Mel Greig and her sidekick", as an Australian columnist put it.
The police have said that Jacintha Saldanha was pronounced dead on the morning of Friday 5th December at an address near the hospital where she worked, and that they aren't treating her death as suspicious. If she killed herself, the reasons why a person may end up committing suicide are almost invariably multiple and complex, not the result of a single event. Saldanha had two children. Her bereaved family and friends are dealing with her loss.
If you're reading this and you, or someone you know, may be at risk of suicide, please ask them to call The Samaritans – 08457 90 90 90 (UK) – 1850 60 90 90 (ROI) – or in Scotland get in touch with Breathing Space.
And at the same time, without regard for the family's feelings, the media have gone into a new feeding frenzy, this time directed at the two DJs. DJs who are, let's not forget, employed by a station that encouraged hateful and demeaning behaviour towards women and girls: where their employer had a lawyer check the recording before broadcasting it. The attacks on the Australian DJs are no more indicative of media shame about tricking a hospital into releasing confidential information, than the attacks on the hospital or the nurse were indicative of media respect for medical confidentiality. Leveson is over and done with. David Cameron doesn't intend to legislate.
Let's consider how hate sells.
An ugly stitch-up is taking place:
So sit back and watch as, for the seventh time in 70 years, the guilty men (and they are still almost all men) define the terms of their own regulation without any engagement with or role for the ordinary journalists represented by the National Union of Journalists, without engaging directly with any of the victims of their past cruelty and wrongdoing, and without any public consultation.

To whom are they answerable in all this? Only to David Cameron, the man who swapped intimate texts with Rebekah Brooks and gave a job to Andy Coulson. The man who claims to believe he believes it is wrong for politicians to have even the slightest role in regulating the press.

Before the Leveson Inquiry began I wrote that the hacking scandal made Britain look like Berlusconi's Italy, albeit without the prostitutes. I never thought that at the end of the process it would look even more like that, but it does.