If you're interested in Lego, you can skip the first 10 minutes of this promotional video, which is a rather dull little film about a Danish family of carpenters and toymakers.
In or about 1980, Lego stopped trying to market itself as a toy suitable for both girls and boys to build with, and started to aim itself purely at boys.
"The biggest issue we had was in early 2000 where we were actually losing money, coming out of 30 years of constant growth and constant profit growth," [Poul Schou, senior vice president of Lego product group 2] said. "Then suddenly in 2000 to 2003 we were faced with a number of difficult years. And I think the biggest mistake, the biggest challenge we had at that time was that we actually lost our interest in boys in our core group."
Pure capitalism would say "Gosh, we used to sell Lego to girls and boys. Now we've been trying to cut out our sales to girls for 20 years – just long enough for a whole generation of children to grow up knowing that Lego is for boys – and our sales are down! Maybe we should stop trying to cut our market by 50% and sell to all children, just like we used to!"


Sexism told Lego it couldn't possibly be that way, because sexism says "girls aren't interested in construction". Poul Schou says that too:
"We have seen that girls seem to be less interested in continuing with our products when they get to four or five years old so we don't really get them into the Lego system."
Between about five and twelve, I built bridges, pyramids, houses, enormous wheeled vehicles, engineering experiments using my Lego boat: my parents bought me occasional kits, but what I liked about Lego was that I could almost literally build anything with it. Sexism, however, tells Poul Schou there was no point in marketing Lego to girls like me, because we weren't really interested in building things.
What girls like is playing with dolls, says Schou. So when they decided to make "Lego for girls" they didn't bother with proper detailed models that require hundreds of Lego bricks and pieces to build. And it wouldn't do to have boys think that Lego could be a girl's toy too: important to set off "Lego for girls" from normal Lego, aimed at boys.
(That part, actually, makes sense to both Capitalism and Sexism. Once a toy has been defined as a "girl's toy", many parents will not buy it for their sons, though a "boy's toy" can be bought for tomboy daughters.
From BroadBlogs:
Every quarter I ask my women students if any of them had been tomboys when they were little. Many hands enthusiastically shoot into the air. The women often have fond memories of their time climbing trees and digging in the dirt.

Then I ask men students if any of them had been sissies. The class bursts out laughing. One hand might sheepishly creep up.

One man claimed the question was unfair since the word "sissy" is stigmatized but "tomboy" is not.

Actually, there isn't a non-stigmatizing word for a boy who acts like a girl. And there's a reason for that. Any boy who acts like a girl takes himself down to a lower status. He becomes demeaned.

A girl who acts like a boy, on the other hand, doesn't harm her social standing. At least not until she gets older and the behavior takes on lesbian overtones.
So there you go. If this goes on, playing with Lego will become a lesbian thing to do, at least until you stand on a brick in your bare feet. This is the only thing that's keeping me right now from buying Lego.)
Emma's Horse Trailer is aimed at girls aged 6-12. It has 218 pieces and you can see by rolling the magnifier over it that it doesn't require much construction – there are a lot of large pieces that clearly won't fit well into any other item but what they're intended for. There are two figures, a girl and a horse, neither of whom look as if they'll fit into regular Lego patterns.
Helicopter Rescue is aimed at boys aged 5-12. It has 425 pieces. Building it would be an enjoyably fiddly challenge and afterwards, most of the bricks and pieces could be used somewhere else. Though they're both supposed to be for more-or-less the same age range, the kit aimed at the boys is more interesting and more useful – and more expensive. (Meaning that girls may be steered to the cheaper "girl's version" by thrifty parents convinced their girl won't really enjoy a boy's toy, too.) There are four figures, all clearly intended to be male, all standard-sized.
If my mum had asked me back then which kit I wanted, I might have liked the look of the Horse Trailer, but I'd have been disappointed with it once I opened the box and realised that it wasn't a proper Lego kit.
Schou said that he guessed the ratio of boys to girls interested in construction was maybe 8:5. Those seem like odds that are worth investing money in to make actual construction toys for girls, instead of Lego-branded dolls and dollhouses.
But sexism says otherwise. And even when capitalism admits it would make sense to try to sell to all your possible market, sexism trumps capitalism.
At least if you're LEGO.
If you want to tell the company something else, like Lego for All on Facebook and share to your timeline.
Update, 7th September
LEGO in Germany's decided that they don't need girls or women to buy Lego. Via Jan Lehnardt on Twitter: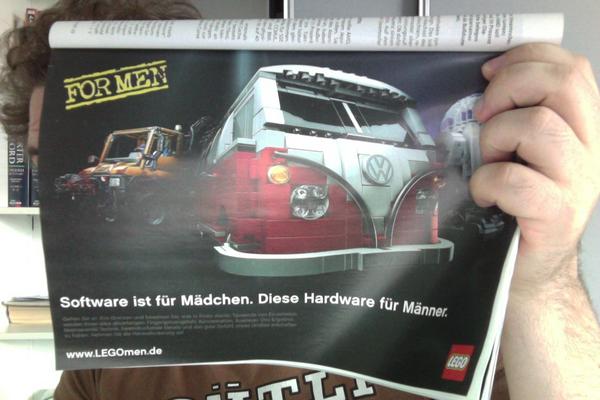 There's now a Tumblr: Legowomen.tumblr.com
Update, 16th December 2013
And proving that Lego aren't the only company for whom sexism trumps capitalism: television executives refusing to make cartoon shows that would appeal to girls because they believe that girls don't buy the show's toys.
Yet:
The Toy Industry Association has annual sales data up on its website, although I don't see a spot where it breaks down sales data by gender. One thing that is interesting is that, in 2012, action figures and roleplaying toys accounted for $1.39B in sales, while dolls, which are typically aimed at girls, accounted for $2.69B in sales.
Update, February 2014: The Little Girl from the 1981 LEGO Ad is All Grown Up, and She's Got Something to Say – and: Breaking News: LEGO Fails Girls (Again)